West Norfolk schools celebrate international success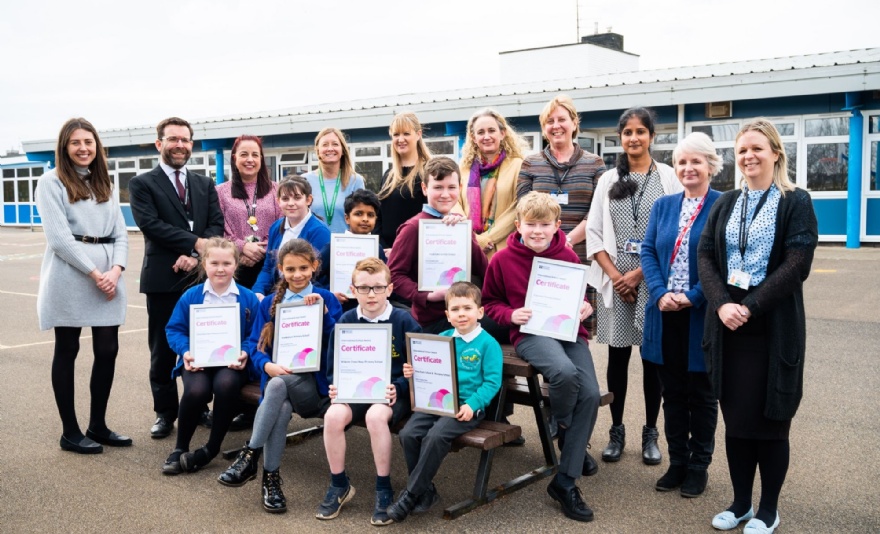 An international project involving our primary schools has seen everything from eco-bricks to playground games shared between pupils in classrooms thousands of miles apart.
We - along with other West Norfolk Academies Trust primary schools - have all been working with partners in India and the children have been learning from each other about their environment and wildlife, among other things.
The schools; Heacham Infant, Heacham Junior, Snettisham, Clenchwarton, West Lynn, Walpole Cross Keys and Gaywood primaries all received funding to join the Connecting Classrooms scheme and they joined a celebration marking the awarding of International School certificates.

Each school made a presentation about the project it had been involved with to highlight the work that goes into receiving the accolades.

"Our pupils have all benefited from taking part in the partnerships they have forged with their counterparts in India. They have worked on a variety of projects together and learned a great deal from each other," said our Executive Head Teacher Andrew Johnson.

"Despite the fact a global pandemic struck as we were starting out together, all the projects have shown how collaborative working across borders can help foster understanding and lay strong foundations for the future," he added.

Pupils at Snettisham concentrated on sustainable fashion and learned about cotton production in India. Their partner school shared their Diwali costumes and the West Norfolk students showed how to make a May Queen garland with spring flowers.

Clenchwarton children and their partners in Delhi have been making Ecobricks from plastic bottles and the West Norfolk children hope to create a friendship bench from theirs.

Children at Heacham Infant School enjoyed a wildlife project with a Mumbai school and compared their environment - tigers, giraffes and zebras and worms, butterflies and ladybirds.

At West Lynn the pupils were amazed by the size of the Mumbai school, in lockdown for two years and pupils there were fascinated by the West Lynn Ferry across the River Great Ouse. They shared the teaching of phonics and playground games.

Heacham Junior School concentrated on Black History Month and those who worked towards equality - from Nelson Mandela to Marcus Rashford.

Gaywood Primary School is studying the climate with its partner school in Mumbai - which has 2,000 pupils.

At Walpole Cross Keys Primary, phonics also featured in the partnership as did recipes for popular dishes.

Grant funding from the British Council's Connecting Classrooms programme has enabled the project to take place in the primary schools.