Our school's award for caring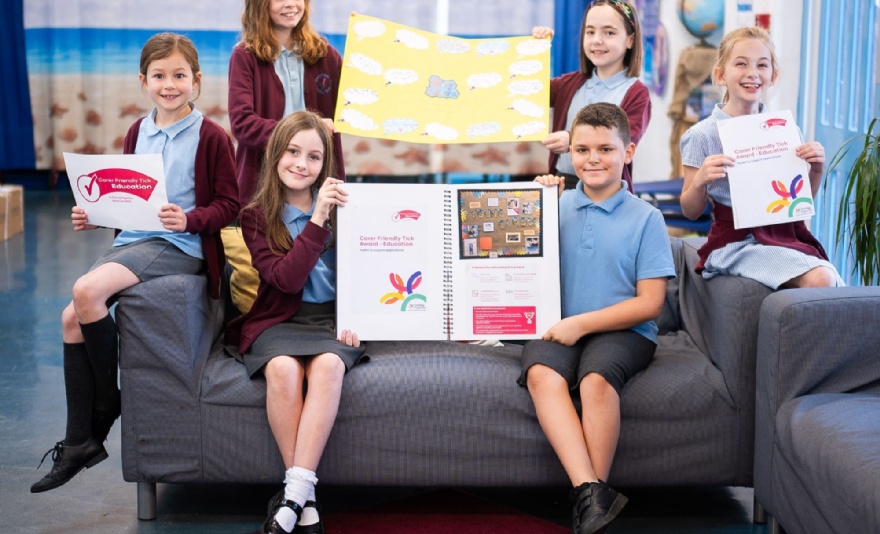 Our school has been presented with a prestigious award after being recognised by a group of young people it helps.
We have received a Young Carer Friendly Tick in Education which highlights our commitment to working with those students who also have a caring role outside of school.
"We are thrilled to have been awarded the Carer Friendly Tick Award. We applied for it with the ambition of supporting staff in identifying young carers within our organisation, equipping them with the tools to signpost them to the best possible support, to prevent isolation and promote equal opportunities for all.
"This work has meant that staff are well trained and young carers in our school have benefitted from opportunities to interact with other pupils who are going through similar experiences. " said deputy headteacher Emma Hunt.
The process lasted around a year and part of the work included preparing a carer's statement to outline how young carers are supported at our school.
Staff and pupils completed awareness training, delivered by Belinda Jones from Caring Together, to help identify and understand the impacts of being a young carer.
"Our Junior Leadership Team also created a display in our school foyer to showcase information about carers and identify any support available locally," added Mrs Hunt.
Our school joins others from West Norfolk Academies Trust in being able to display the logo which is recognised as the benchmark for organisations.
Members of the school's Junior Leadership Team were a driving force behind ensuring the status was achieved. The members are all in Year 6 and are given additional responsibilities. They meet regularly to discuss a range of priorities from uniform to school dinners.
The Caring Together Charity instigated the tick award within education via a Norfolk project working with young carers and the success has seen it rolled out across the county and into Peterborough and Cambridgeshire.
The award can also be made to community groups, employers and health organisations.