War at the Hollow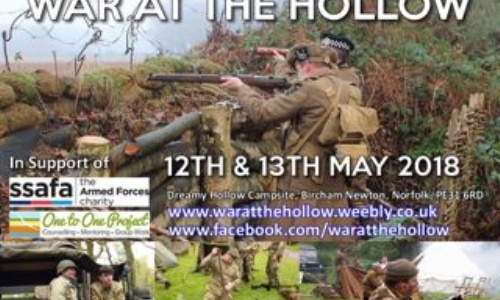 Set in beautiful woodland near the wartime RAF station of Bircham Newton, War at the Hollow returns for its third year with plenty of entertainment for the kids, and a wealth of historic displays from reenactors to raise money for worthwhile charities.
Why not go along on the 12th and 13th May and take a trip through 20th century military history and experience life in our genuine WW1 trenches as the Lovat Scouts prepare for war in France, and visit the new memorial dedicated to the Lovat Scouts who fought and died in what was hoped to be the "war to end all wars".
As we move forward to 1939-45 it becomes clear that WW1 was not the end of war, and it took on an even more terrifying reality for civilians who were caught up in the Blitz. Learn more about this period by visiting British and American troops and the vast array of weapons and equipment the soldiers used during the Second World War to defeat Nazism.
This year we also pay tribute to Britain's National Servicemen as we move beyond the Second World War and into the early Cold War era where British and Commonwealth solders are fighting against Communist Guerrillas in the hot inhospitable jungle in Malaya between 1947 and 1960.
Over the weekend you can enjoy:
Firepower demonstrations
Exhibitions
Archery
Talks and demonstrations from our experienced reenactors
Food & refreshments
and much more!
This year we will be supporting the forces charity Ssafa and Norfolk mental health charity One To One, so do come along and lend your support to raise money for this worthwhile charity. For news and regular information please join our Facebook page, and we hope to see you at the event!