Safeguarding Children and Internet Safety
We as a school are committed to ensuring the safety and well being of our children at all times. We do this by providing a safe environment for them to learn and develop whether this be in the classroom or using external resources found on the Internet.
In this section of our website, you will find details of our safeguarding practices and our Internet safety procedures which you can also use and follow at home.
Safeguarding Children
Schools play a large part in protecting children. We aim to provide a safe environment that is conducive to learning. We also aim to identify children who are suffering or likely to suffer significant harm, and take appropriate steps to keep them safe in school and at home when required.
To read our full Safeguarding Policy please click here to go to our policies page.
As a school there are set government guidelines which we have to adhere to regarding the safeguarding of our children. Some of these are listed below:

There are also many useful websites relating to safeguarding. Below are a few that could be helpful should you think a child requires help. Please click on the links below to view:
If you have any issues regarding the safety of a child then please do not hesitate to contact the school to talk to a member of staff.
Operation Encompass
Encompass has been set up to help school provide support to children who have been present at incidents of domestic violence.
Heacham Junior School will be taking part in a this jointly run operation with Norfolk County Council and Norfolk Police.
The school will receive a confidential phone call from the Multi-Agency Safeguarding Hub before 9am on the morning after any domestic incident where a child at our school had been involved, present or witnessed.
The information is given to a the school's Key Adults who are:
they will then enable support to be given dependent on the needs and wishes of the child.
We are keen to offer the best support possible to our pupils and we believe this is going to be extremely beneficial to all those involved.
For further information on how the school s supporting Operation Encompass please download the letter sent home to parents here.
For more information on Operation Encompass please click on the link below: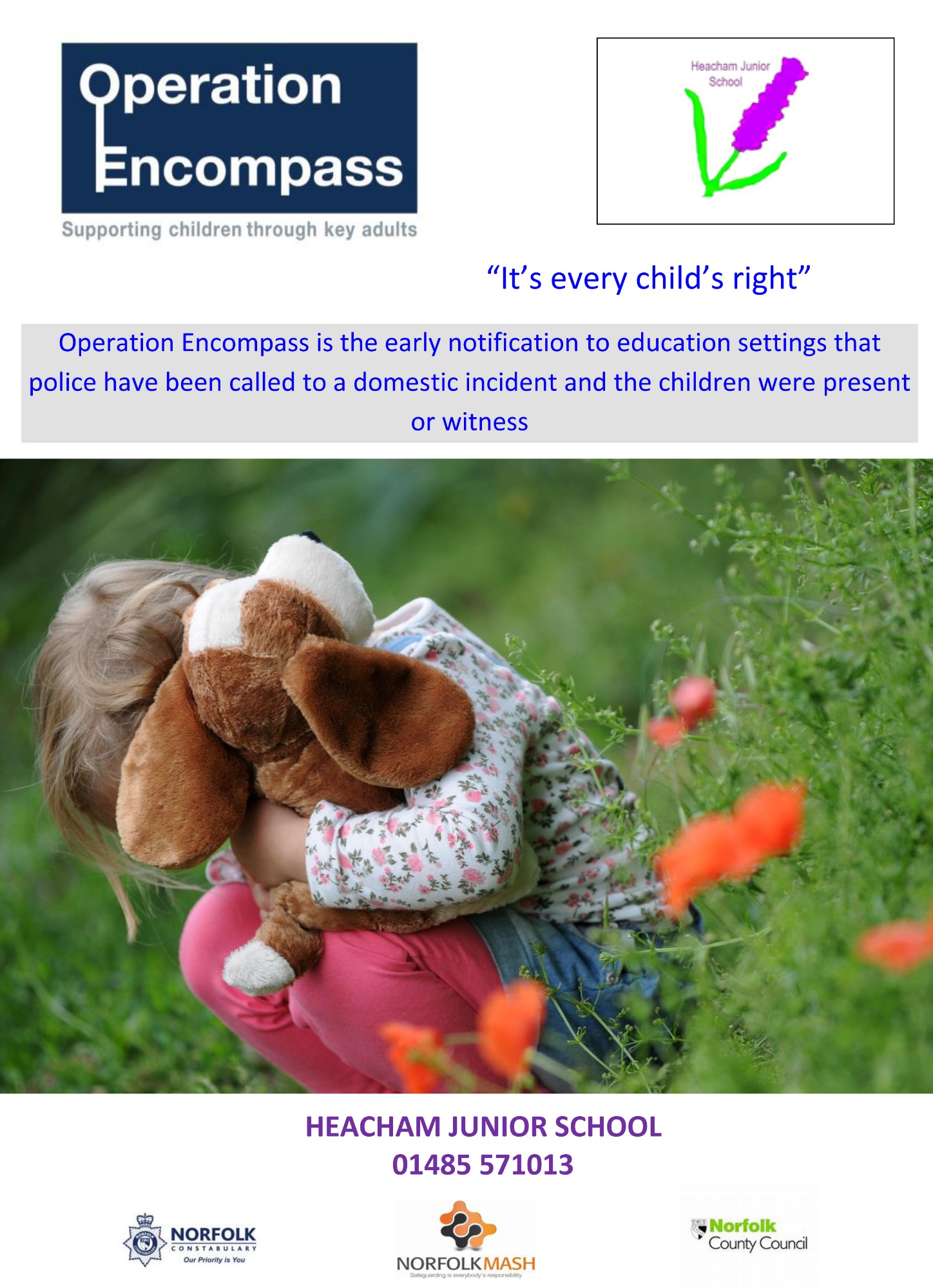 Internet Safety
In this section of our website, you will learn how you and your children can stay safe on-line. We hope that together you will enjoy using the Internet, and have fun but please remember to use the Internet safely.
To view our Online Safety Policy please click here
The following websites also provide useful information on using the Internet:
Below are further online safety guidelines to follow:
Engaging Families In Online Safety
Why do some parents not engage with online safety?
Concerns about insufficient computer skills or a limited understanding about the online environment can be off-putting and sometimes frightening for parents/carers. Many parents believe that their children know more about the internet and technology than they do, and this can sometimes be a difficult issue to overcome. It is important to remind parents that online safety is more about parenting and communication skills than technology.
Alternatively, some families may think they already do enough to protect their children by banning certain games or sites and installing filters or antivirus software onto home devices. Unfortunately, this approach does not acknowledge that children could access the internet elsewhere or may intentionally bypass systems without parent's knowledge.
Banning and blocking is not the answer. When working with parents, try to highlight the importance of maintaining open discussions and empowering children to make safer and more sensible choices online.
For further information on guidance for educational Internet settings please click on the link below:
Engaging Families in Online Safety: Guidance for Educational Settings
Be Safe Online Posters
E-Safety For Infants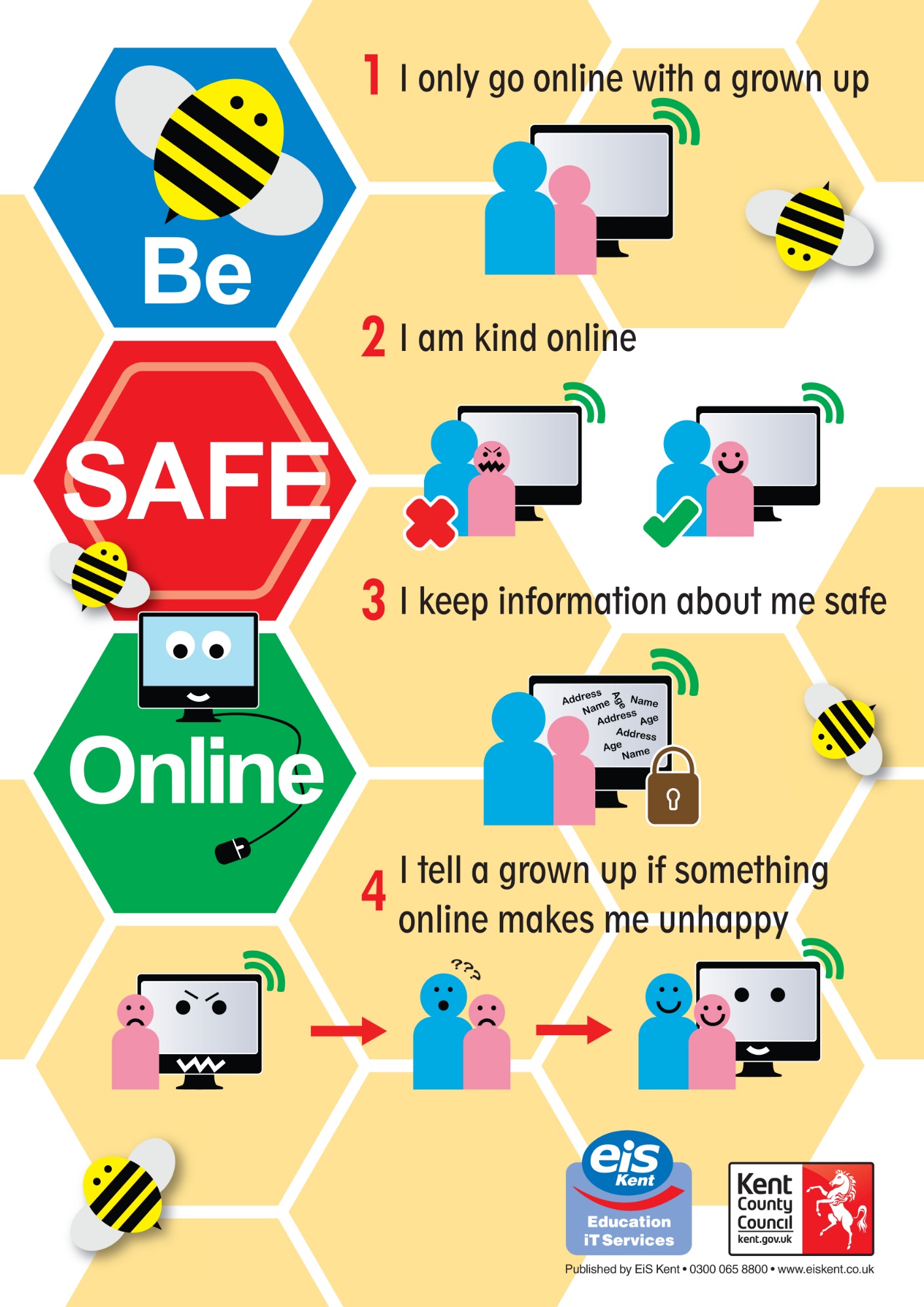 E-Safety For Juniors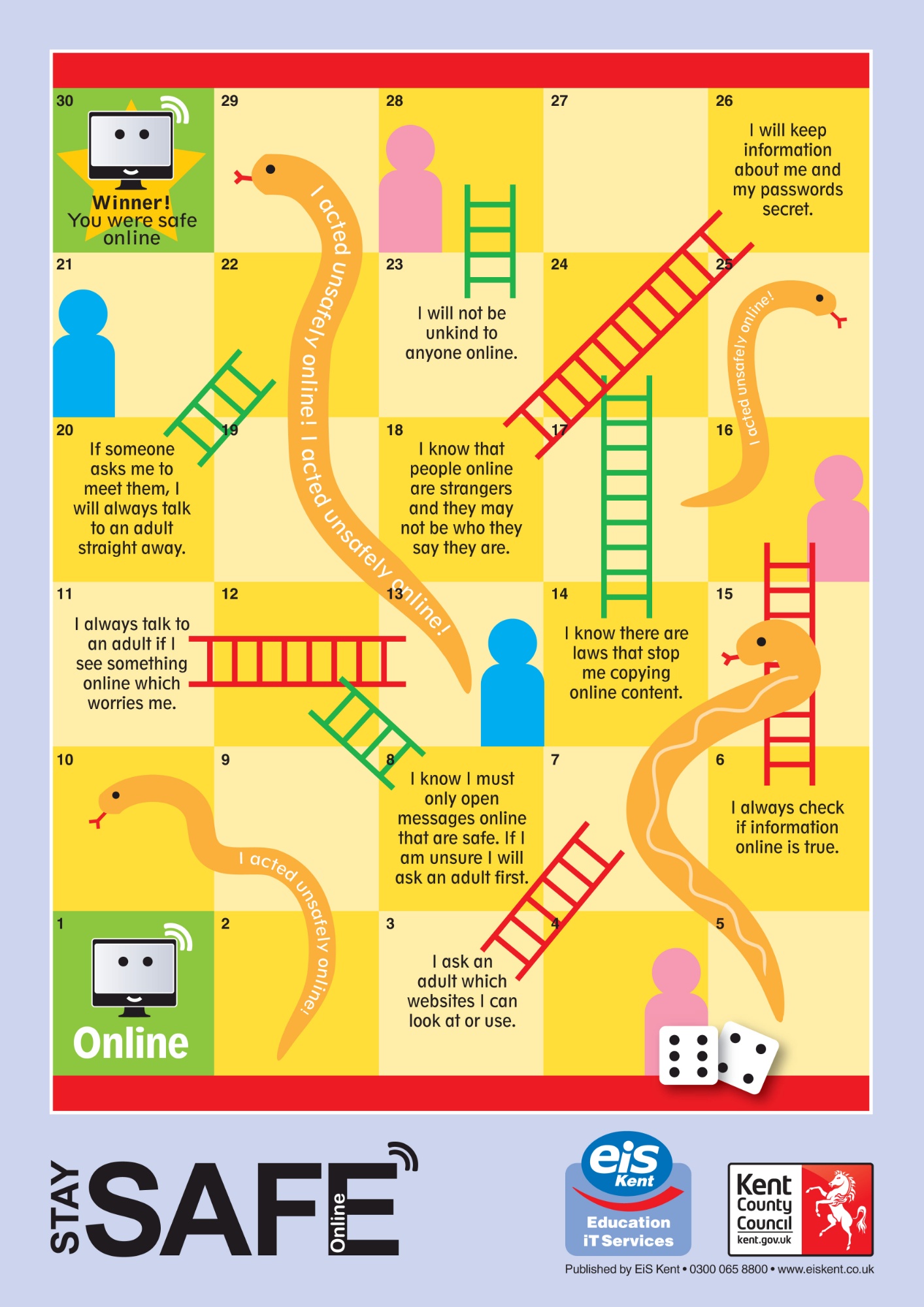 Be Internet Legends
Online Safety and Live Stream Assembly - 25.11.2020
To view the assembly held by google and parent zone click on the link below:
Useful Websites
Further information on Internet safety for children and parents can be found by clicking on the links below:
Other useful Websites:
Internet matters - for support for parents and carers to keep their children safe online

London Grid for Learning - for support for parents and carers to keep their children safe online

Net-aware - for support for parents and careers from the NSPCC

Parent info - for support for parents and carers to keep their children safe online

UK Safer Internet Centre - advice for parents and carers and to report and remove harmful online content